Debut alert! Any time I see a collaboration between two constructors, I go to xwordinfo.com first to see if one of them is making her first contribution to the NYT. And it is true for Ms. Schechter, so congratulations.
It's almost a Wednesday level puzzle, both in terms of difficulty and in terms of oddity of theme. We get seven theme answers, none longer than 8 letters, each in the form of a standard verb phrase where the verb is also a common person's first name. Thus 16A: Singer Benatar feels blue (PATSDOWN) or 48A: Baseball's Boggs has agreed to join us (WADESIN). It's cute, and fun to have so many examples. Also, I'm impressed by the inclusion of Mr. Boggs, Red Sox third baseman and one of the best hitters I've ever had the pleasure of seeing play in person. Since he made it into the Hall of Fame in 2005, he's fair game in my opinion.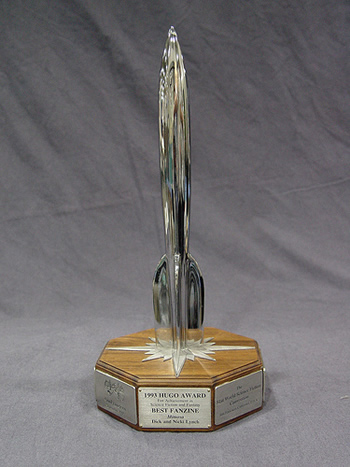 HUGOS
One side effect of so many short theme answers is that the puzzle itself skews towards short answers. With 15 3-letter answers and 24 4-letter answers, we were exposed to a good deal more of the
POM
AMA
BTW
IRS
UPI
style fill than usual. Also
CNBC
and
CBGB
,
SEGO
and
IFSO
.
The NE and SW corners are nicely chunky, however, with GOESDEEP, ALSORAN, and JETSKIED. That last is a very well done piece of Scrabbly goodness.
Not a ton of clever clues, but I liked 56D: Big do (AFRO), misdirecting from a gala affair. I also liked 27D: Locale of both the highest and lowest points on the earth's surface (ASIA), referring to Mt. Everest and the Dead Sea.
I will also say, however, that I simply don't know what to do with 4A: Small lumps (NUBS). I just don't know what to do with it. I don't, and that's all I have to say about it.
- Colum
PS: My time was 4:44. I didn't expect to get such a reaction to this, and am happy to share my time, but I agree with Horace that perhaps it shouldn't be the first thing in the review any more, so expect to see it at the end from here on out.