4:21
As Churchy Lafemme used to say in Pogo, "Don't you just hate it when Friday the 13th comes on a Tuesday?"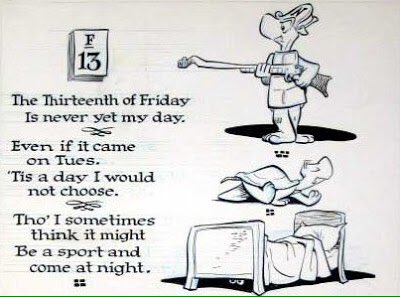 Actually, that has nothing to do with today's puzzle. It's just always worthwhile to think about Pogo, especially during times of political upheaval.
Today's puzzle, on the other hand, is a set of silly puns surrounding legal terms. My favorite clue is 17A: Legal actions provoked by oversimple jigsaw puzzles? (
THREEPIECESUITS
). That's quite some verbal prestidigitation to get to the joke there. My favorite answer is
BOXERBRIEFS
. My least favorite is
DENTALRETAINERS
, which is simply not what you call them. I should know: I've paid for a number of them for my children's mouths.
I question the NE corner of this puzzle entirely. In order to get
EQUINE
, I suppose we've ended up accepting
ETSY
, which leads to the unacceptable
WINEY
. What is that? It's not a word. Nobody has ever used that word intentionally. If you said it, I'd think you were saying "whiny", which is what this paragraph is beginning to sound like.
I'm also not a fan of
HAM
coming after
ONRYE
, no matter how tasty the combination may be (with a good strong mustard and some swiss cheese, of course).
I liked
VARMINTS
and
WHEEDLED
, however. Those are fun entries. I suppose Icarus Fob might enjoy 20A. Strange moment happened in the SW corner where I put "fawn" in for Bambi and crossed it with "away" at 64A: Departed (
LEFT
).
EROS
soon put me right, as is so often the case.
1A: "What a relief!" (
PHEW
) gets a B-, and was my first entry, although I glanced at 1D to be sure it was spelled with a P and not a W.
Mixed review for me.
- Colum