11:34
It's Groundhog Day, and Punxsawtwney Phil saw his shadow today, so enjoy more winter, everybody.
To celebrate, let's recognize Mr. Eaton-Salners who today publishes his debut puzzle in the NYT. And it's a doozy! The theme answers give directions to start answering subsequent across answers either
INREVERSE
or the more standard
LEFTTORIGHT
. A total of 12 of the across answers are to be entered backwards, or about a third overall.
I entered the puzzle confidently with
PINKEYE
(although I had to take it out later on until I was actually convinced I'd been right in the first place). I saw the clue for 20A: How a book in Hebrew is read [watch out now!] (
BACKTOFRONT
), so I had an idea something was going to be up, and when I entered "rEnEe" at 32A: Zellweger of "Chicago" (
EENER
) and then saw
TSAR
, I figured out that answers would be backwards.
I love how some of these answers look in the grid:
DEOMED
,
ERITNE
,
MEDNAT
.
SPIV
!!
It's a great theme, tightly done, and I enjoyed figuring it out. The fill is reasonable. 1A: Echoing sound in a hallway, maybe (
STEP
) gets a B for the clue's interest. Nobody wants to see
MUCOUS
(ick!), but I liked
RECORDDEAL
and the oddly singular
INGREDIENT
.
Of course I'm very fond of 45D: James Parkinson or Alois Alzheimer (
EPONYM
) as representatives of individuals who give their names to illnesses. Who doesn't thrill to Osgood-Schlatter disease, or Osler-Weber-Rendu? We had to give up Hallervorden-Spatz disease seeing as how these doctors experimented on Jewish prisoners during the Holocaust.
But nobody wants to end on a note like that. So let's watch some
SDAOT
hopping.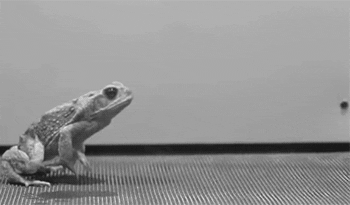 - Colum