Happy Bastille day! Mmmm. Paris. Can I be there now?
Although I'm not there, the puzzle had a few things making me think of France (CARTE and the English translation of "Fin" - THE / END), and that "towering figure," EIFFEL. But that was just a small part of the puzzle today.
Instead, we get (finally!) a clever play on all of the E- words we see in the puzzle. In this case, 38A: Kindle, e.g. ... or a hint to this puzzle's theme? (EREADER) riffs on the idea of adding an E to a word in a standard phrase to change it to an author's name, and then wackily cluing the resulting phrase with a reference to one of that author's works. Thus, 62A: Positive review of a Nancy Drew mystery? (PEACHYKEENE) refers to author Carolyn Keene. I suppose, unlike the other three, that there are few Nancy Drew mystery titles so well known to readers of the NYT that they would immediately recognize it.
Ah well. I liked Bonfire of the Vanities when I read it in the 1980s. I love The Importance of Being Earnest, and Oscar Wilde in general. I did not particularly enjoy A Confederacy of Dunces, but perhaps I should revisit it? Or perhaps not. There are already so many good books to read in this world.
Does having ETAIL in the same puzzle muddy the theme? It would be a lot harder to come up with various kinds of tails and then adding E to them to make new words. Mullete? Prehensilee?
This is why I don't construct crossword puzzles.
In other areas, we're fans of SEAOTTERS (or otters in general) in this household. On the other hand, I wouldn't classify myself as an EXTROVERT, particularly. I have never owned a PETPIG, but George Clooney does.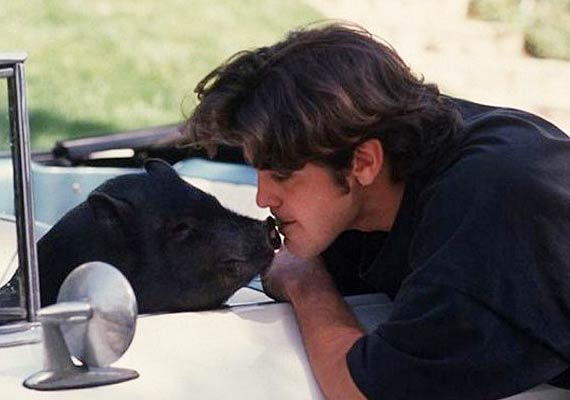 Two fun clues on the smaller side: 6D: Bikini, e.g. (
ATOLL
) is a lovely misdirect with a hidden capital. Also 34A: Genesis creator (
SEGA
). Not God. Not this time.
- Colum