AUDUBON SOCIETY
Hey everybody! Happy to be back on blogging duties, and with such a fun Sunday puzzle to get us started. Definitely on the extremely easy side (it took me less than half the time to finish this large grid than yesterday's brainbuster 15x15 grid), but what a fun theme!
The revealer comes at 115A: 2017 film nominated for Best Picture ... or a hint to the answers to the eight starred clues (
LADYBIRD
). By the way, it was a great movie, and I highly recommend it. I also appreciate not cluing the former First Lady, Mrs. Johnson, because that would have messed with the consistency of the theme. See, all the theme answers are women, fictional or real life, whose last name is a kind of bird. And even better, all of the answers include the full name.
All of them are well known to me, with the exception of
PAMELASUEMARTIN
, because I never watched the soaps. This is a lie. I used to watch As The World Turns after getting home from school. At least, I think that was the soap I watched. I really remember nothing about it.
In any case, it's really impressive getting eight complete names into the grid, and if you're doing the puzzle on an electronic device, and click on 115A so all the theme answers are highlighted, you can see how Messrs. Herrick and Adams have accomplished it. There are only two points of contact for all of these answers. Otherwise they're all well isolated, which gives a nice degree of freedom.
For the record, my favorite is definitely
CLARICESTARLING
, because Jodie Foster, and that movie is such a cultural touchstone. Fortunately I need not choose between the rest, but I'll give a nod to
SCOUTFINCH
.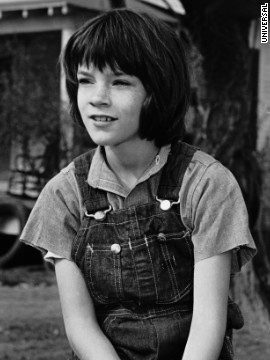 Some good QMCs today:
20A: Part of a theater? (
ROLE
)
21A: Do for a few months? (
PERM
) - did anybody want "temp?"
95A: Bottom of Britain? (
ARSE
) - my favorite by far.
Other clues and answers I liked:
58A: Lend a hand when one shouldn't (
ABET
)
87A: "Don't include me in this!" (
WHOSWE
) - hah!
97A: Bill passers, briefly (
ATMS
) - not "sens" ...
Good start to the week!
- Colum