3:33
The devil, as they say, is in the details. One detail I missed as I was solving the puzzle was the fact that 17A: Another name for [See shaded squares] (
MRSCRATCH
) was not referring to that well-known female role from an Eighteenth-century novel, Mrs. Cratch. I figuratively scratched my head for a few seconds when I filled it in. But then I moved on.
Before anybody complains that such a character never existed, I made her up.
It's a fun theme, though.
SPEAKOFTHEDEVIL
runs across the middle, and in each corner is found another name for the fallen angel. My favorite will always be
LUCIFER
. He's an important character in Neil Gaiman's masterpiece, The Sandman, and it was this version of him that was portrayed in the television series of the same name. One nice touch, as you will see below, is that his speech bubbles had a lovely ancient font.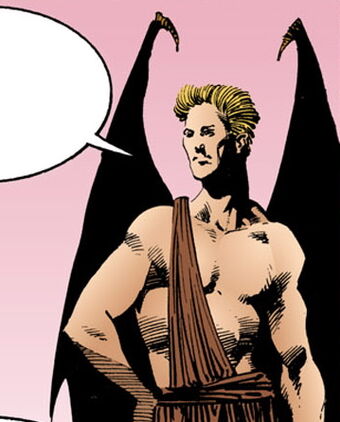 I would say on the whole that this puzzle was more difficult than your typical Monday offering. I hold up as examples of this somewhat more challenging proper names such as
DOONE
,
RHONE
,
TIMOR
,
KOBE
, and
KOLN
. I also imagine that
AEONFLUX
, which was an objectively awful movie, would be a hard to get answer for many.
On the plus side, everybody likes a
HOLODECK
.
- Colum